Sign in
Tip from find-more-books.com
Search tools
Latest news
---
Sorting...
1
1900, ISBN: 1441762736
[SR: 2643816], Audio CD, [EAN: 9781441762733], Audiobook, Unabridged, Blackstone Audio, Inc., English, English, English, Blackstone Audio, Inc., Book, Blackstone Audio, Inc., Blackstone A… More...
[SR: 2643816], Audio CD, [EAN: 9781441762733], Audiobook, Unabridged, Blackstone Audio, Inc., English, English, English, Blackstone Audio, Inc., Book, Blackstone Audio, Inc., Blackstone Audio, Inc., In this luminous and unforgettable debut, Michelle Hoover explores the polarization of the human soul in times of hardship and the instinctual drive for self-preservation by whatever means necessary. The Quickening stands as a novel of lyrical precision and historical consequence, reflecting the resilience and sacrifices required even now in our modern troubled times. Enidina Current and Mary Morrow live on neighboring farms in the flat, hard country of the upper Midwest during the early 1900s. This hardscrabble life comes easily to some, like Eddie, who has never wanted more than the land she works and the animals she raises on it with her husband, Frank. But for the deeply religious Mary, farming is an awkward living and at odds with her more cosmopolitan inclinations. Still, Mary creates a clean and orderly home life for her stormy husband, Jack, and her sons, while she adapts to the isolation of a rural town through the inspiration of a local preacher. She is the first to befriend Eddie in a relationship that will prove as rugged as the ground they walk on. Despite having little in common, Eddie and Mary need one another for survival and companionship. But as the Great Depression threatens, the delicate balance of their reliance on one another tips, pitting neighbor against neighbor, exposing the dark secrets they hide from one another, and triggering a series of disquieting events that threatens to unravel not only their friendship but their families as well., Amy Greene Reviews The Quickening Amy Greene is the author of Bloodroot. I can usually tell within the first few pages whether or not I'll love a book. With Michelle Hoover's novel The Quickening, I knew from the first line. The voices of Enidina and Mary, two Iowa farmwives bound by their struggle to survive in the lonesome upper Midwest on the cusp of the Great Depression, are that real and charged with emotion. Right away, it was clear that I was in capable hands with this debut author. Reading The Quickening, I was reminded of Willa Cather's rugged depiction of 1900s prairie life in My Antonia, and Jane Smiley's complex portrayal of a Midwestern farming family in her Pulitzer Prize–winning novel A Thousand Acres. But Hoover's point of view is uniquely her own, having grown up herself in the Midwest she writes about so vividly, the granddaughter of Iowa farmers. The Quickening is inspired by the life of the author's great-grandmother, and although Hoover's authorial hand is never heavy, her personal stake in the story undoubtedly lends to the psychological suspense of the narrative and the emotional resonance of the tragic events that play out as a result of Eddie and Mary's turbulent relationship. While Hoover's prose is quiet and understated, it thrums with tension from beginning to end, so that I found myself lost in the pages for hours at a time. Finishing The Quickening was like waking from a dream, or another life I had lived for a while. Perhaps Michelle Hoover's greatest accomplishment with her first novel is her ability to draw the reader so completely into the world she has created, to give the reader a window into the past and into the hearts and minds of her unforgettable characters. The Quickening is an exciting discovery, introducing a fresh storytelling voice and promising a distinguished body of work to look forward to, as well as a new favorite author to add to my list. Michelle Hoover is a stunning literary talent with a long career ahead of her. Questions for Michelle Hoover Q: The idea behind your novel, The Quickening, came from an old family document you discovered—tell us about that. A: It wasn't until my twenties that my mother gave me a copy of my great-grandmother's journal, only about fifteen pages. I doubt many in my family considered journal keeping--both the time it took and the "navel-gazing" required--to be worth much in comparison to a good day's work. In beginning to write at all, my great-grandmother was surely urged on by her daughter, my eccentric Great-Aunt Ollie, and also by the recent loss of her husband, Frank--a loss that left my great-grandmother so stunned and weary that she didn't know what else to do with herself. Perhaps my life, she began, and that of my dear husband has meant little or nothing to anyone except to us and our immediate family.... What followed was a voice and story that carried more heartache and regret than I ever thought possible of my reticent family. Aunt Ollie typed up her mother's pages and inserted family photographs, the people in which appeared dour and wind-swept and proud. With the combination of my great-grandmother's voice and those faces, I was hooked. When I sat down to write my own Enidina, her voice came easily. Suddenly I was inside a woman who'd lived through the turn of the century and the chaos and confusion that followed, a woman now exhausted more by the loss of her family than any event history had thrown at her. It was this loss that kept her talking and kept me trying to understand what happened to put her in such a place. Q: After you found this letter, how did you find out more about your family history? A: I looked through other family documents--though there weren't many--and researched the time period. Some of my great-grandmother's story seemed impossible, such as the meteorite she claimed struck a nearby farm and broke windows "for miles around." I've found no proof of such an occurrence, but I also couldn't leave the idea alone and so wrote it into the book--a bewildering incident in the eyes of my two farmwomen and their neighbors, enlarged to a metaphoric level by Mary's religious fervor and guilt. My mother took any number of last-minute "is this possible?" calls and was the first to tell me about the family "cave," an earthy food cellar detached from the house and which I found fascinating both in name and function. My uncle Lowell was also a great help for details, and we had several phone conversations about hog slaughtering and other time period questions, such as what the family ate during different seasons and how they might have prepared the food. My uncle is a natural storyteller as are a large number of the men in my family, men who are quiet, kind, and deeply religious with easy, wistful laughs and dark singing voices. Q: And is it true that the character Enidina is loosely based on your great-grandmother's story? A: Yes, though Enidina is also very much her own character. I used my great-grandmother's recent loss of her husband to compel Enidina's own story. I borrowed my great-grandparents' real-life hardships during the Depression and the strangeness of the wars. The way Enidina and Frank meet in the book is nearly the same as my great-grandparents' meeting. My great-grandmother, however, was a tall slender woman, somewhat severe and impossibly industrious. Because I never knew Melva, Enidina's physicality is that of my grandmother, another powerful matriarch both in stature and will, with the largest hands I have ever seen on a woman. Many of her grandsons have these hands now. But Enidina is far plainer than either woman, so plain in fact that I felt bound to give her fiery red hair, a hint of the boldness and determination hidden within an otherwise reserved front. I wanted at least one of my women to gain the reader's interest through physical and mental fortitude alone, without the easy gifts of charm and beauty that successful women--particularly today--are assumed to have and cultivate. Q: As a native of Iowa, you've set your debut novel in a place you know well. Could this have taken place anywhere else? Can you speak to the role of place in your writing? A: For me, the book really needed to be set in the Midwest, and in the part of the region I know best--the flat middle ground where the mind expands and there's little between the horizon and the homestead to stop it. Even though I live in the east now, this landscape is a part of me and my temperament, a way of keeping things level, where self-obsession and unbridled emotion are simply inconsiderate and wasteful. The landscape carries the same sense of absence that I felt after my father's unexpected death when I was teenager, and because I left the place only a few years later, it hasn't lost it. But there's a beauty there too, though it's quiet, and there's a peace, though for me this peace is taut with the threat of change. I often stayed away from home after I graduated from college, possibly as a way to shake off that absence. Only in the last year of finishing the book did my mother reveal that southern Iowa, where my great-grandmother's farm was, is full of low, rolling hills. This seemed impossible to me and in no way suits any memory I have of my family or the landscape they existed on. Nonetheless, Enidina, my Enidina, could not exist in a place with hills. Q: Where does the title come from? A: I'm not sure when I first learned the term "the quickening" for a child's first movements in the womb, but the phrase seems both dangerous and marvelous to me, full of life and the possibility of its loss. Both literally and metaphorically, Enidina herself is always on the verge of this quickening, on the threshold of something new. For a rural woman in the early 1900s, such a feeling promised a new child, but also the possibility of its death, or the death of the mother herself. It was a miracle and a curse at once. All that Enidina knows of her only grandchild is the feeling of this quickening when she touches her daughter's stomach shortly before the girl leaves home. It is this child she is writing to and searching for from the beginning of the book. The child is the only reason she is telling the story at all. Q: While the novel takes place nearly 100 years ago, do the ideas of self-reliance and the support women offer one another in times of hardship stand true today? A: Most certainly. The majority of women I know are tough souls. They have survived miscarriages and the deaths of loved ones, rape, abuse, abandonment, and heartache. Though men obviously suffer the same, these are the kinds of losses that affect women to such an extent that the idea of the long-suffering female has become a cliché. As a result, women must be exceptionally strong and often need to do so without recognition or complaint. Of course women have also been granted an easiness and openness with each other that society both expects and ordains--an expectation that isolates Enidina when she fails to live up to her gender. For the most part, however, women have the ability to seek out friendships and attain a closeness that many male relationships simply do not allow. Mary's husband, Jack, for instance is never granted an emotional reprieve in this novel, a circumstance I consider common. As a Midwestern man in the early 1900s, he simply has nowhere to go with his confusion, temper, and disappointments, and he becomes a tragic figure. Women of course can also be terribly cruel to each other if they consider something that is theirs, something they love, is threatened. Much of this cruelty is instinctual, almost animal. It is the ferocity of the mother protecting her young. But it can also provoke the kind of greed and selfishness that even today keeps women from ach, 10177, Historical, 10134, Genre Fiction, 17, Literature & Fiction, 1000, Subjects, 283155, Books, 10132, Literary, 17, Literature & Fiction, 1000, Subjects, 283155, Books<
2
ISBN: 9781441762733
In the upper Midwest of the early 1900's, two women struggle to make a living on neighboring farms. For one, their hardscrabble life comes easily, while the other longs for the exci… More...
In the upper Midwest of the early 1900's, two women struggle to make a living on neighboring farms. For one, their hardscrabble life comes easily, while the other longs for the excitement of the city. Though they depend on one another for survival and companionship, their friendship proves as rugged as the land they farm. While the Great Depression looms, the delicate balance of their relationship tips, pitting neighbor against neighbor, and exposing the dark secrets they hide. Michelle Hoover, Books, Fiction and Literature, The Quickening Books>Fiction and Literature <
3
2010
EAN:
1441762736
Lieferbar binnen 4-6 Wochen Shipping costs:Versandkostenfrei innerhalb der BRD
Kein Buch! Medienkatalog. In englischer Sprache. Verlag: BLACKSTONE AUDIO BOOKS, L=145mm, B=132mm, H=18mm, Laufzeit=420 Minuten, Gew.=159gr, [GR: 51110 - AUDIO/Belletristik/Romane/Erzählu… More...
Kein Buch! Medienkatalog. In englischer Sprache. Verlag: BLACKSTONE AUDIO BOOKS, L=145mm, B=132mm, H=18mm, Laufzeit=420 Minuten, Gew.=159gr, [GR: 51110 - AUDIO/Belletristik/Romane/Erzählungen], [SW: - Unabridged Audio - Fiction / General], Audio-CD<
4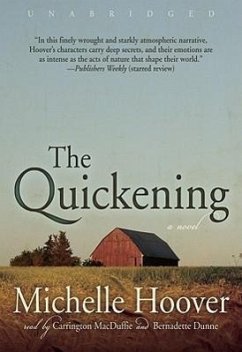 ISBN: 9781441762733
[PU: BLACKSTONE AUDIO BOOKS], Versandfertig in 2-4 Wochen, DE, [SC: 0.00], Neuware, gewerbliches Angebot, offene Rechnung (Vorkasse vorbehalten)
---
1As some platforms do not transmit shipping conditions to us and these may depend on the country of delivery, the purchase price, the weight and size of the item, a possible membership of the platform, a direct delivery by the platform or via a third-party provider (Marketplace), etc., it is possible that the shipping costs indicated by find-more-books.com / find-more-books.com do not correspond to those of the offering platform.
---
Bibliographic data of the best matching book
Details of the book - The Quickening

EAN (ISBN-13): 9781441762733
ISBN (ISBN-10): 1441762736
Publishing year: 2010
Publisher: BLACKSTONE AUDIO BOOKS
Weight: 0,159 kg
Language: eng/Englisch
Book in our database since 2012-01-29T09:58:20-05:00 (New York)
Detail page last modified on 2018-05-01T11:29:22-04:00 (New York)
ISBN/EAN: 9781441762733
ISBN - alternate spelling:
1-4417-6273-6, 978-1-4417-6273-3
Alternate spelling and related search-keywords:
Book author: bernadette, hoover
---
More/other books that might be very similar to this book
---
< to archive...
---